Orthoptics is an ophthalmic sub specialty, pertaining to the evaluation, diagnosis and treatment of patients with disorders of the binocular vision and eye movements. These are the people who have crossed eyes, double vision and or lazy eyes. Orthoptist have post secondary education and have to become certified by the orthoptic board.  The majority of orthoptists work in a pedriatic settings, however, adult strabismus ( diplopia / double vision) due to strokes, tumors, multiple sclerosis, Parkinson's disease, and trauma, just to name a few, is an orthoptic field in demand, especially down here in Florida with the large retirement community.
What an orthoptist can do to help.
A lot of our patients are being referred to us for a sudden onset of diplopia/ double vision of unknown etiology. Diplopia occurs when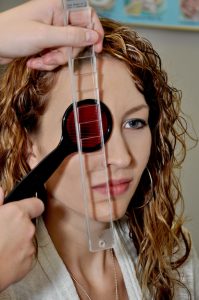 one or sometimes more extra ocular eye muscles do not work together to keep the eyes in focus. This is often caused by TIAs (mini strokes) or space occupying lesions in the brain or eye socket. After examining the patient and ordering the appropriate diagnostic tests ( CT, MRI, lab work) to rule out a stroke or tumor, a prism can usually be fitted on the patient's glasses to improve symptoms. A prism is an optical device, which will trick the brain into thinking that the eyes are not out of alignment. Often, the  misfunctioning eye muscle will regain back it's strength and the prism then can be removed. This process takes about 90 days from the onset of the double vision and several follow up appointments during this period are needed to adjust the prism strength accordingly to the improvement of motility.Some eye deviations (strabismus) can be treated with eye exercises that can be prescribed by the orthoptist.  If there is no improvement with prisms or exercises the orthoptist works in conjunction with the neuro-ophthalmologist to determine further treatment. This can be surgical, botulinum injections, or medication depending on the cause and the degree of deviation.
Oculoplastics/ Neuro-ophthalmology
Jody Abrams, MD, FACS
Oculoplastics/Neuro-ophthalmology
Sarasota Retina Institute
Sarasota, Florida 34239