Neuro-Ophthalmology & Oculo Plastic Surgery Specialist
Board-Certified Ophthalmologist
Fellowship Trained in Neuro-Ophthalmology
Fellowship Trained in Oculo Plastic Surgery
Areas of Specialty
Eyelid surgery for droopy or sagging eyelids
Eyelid surgery for cancer lesions
Cosmetic eye lid surgery
Reconstructive eyelid surgery after trauma or cancer removal
Orbital surgery
Dry eye problems
Tearing problems
Diagnosis and treatment of double vision both surgical and nonsurgical
Diagnosis and treatment of optic nerve problems
Giant cell arteritis diagnosis and treatment
Treatment of optic nerve disease associated with peudotumor cerebri
Diagnosis and treatments of how strokes affect the eye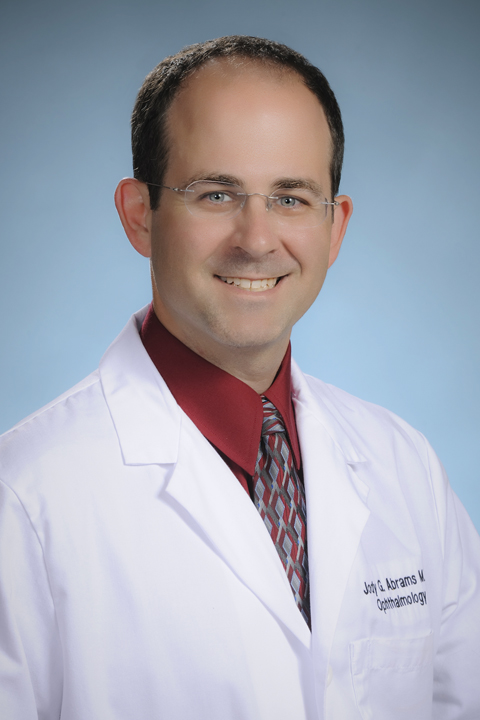 Jody G. Abrams, M.D.
Educational Excellence
Dr. Abrams was born and raised in Covington, Louisiana where he attended the local public schools. Dr. Abrams was accepted to the Louisiana State University system pre-matriculation program for college and medical school which meant that before graduating high school he was accepted to both college, LSU-Shreveport, and medical school at LSU Health Science Center in Shreveport. While in both high school and college he was a student athletic trainer helping in football, baseball and basketball. He obtained a BS in Biology in 1998 from LSU-S and then his MD from LSUHSC-S in 2002. During medical school he was elected to the junior Alpha Omega Alpha (AOA) honor society which is given to the top 5% of the nation's medical school classes.
Having done a lot of previous work with orthopedic doctors in the athletic world, he considered a career in this field; but while on the ophthalmology rotation in medical school he fell in love with this specialty. After completing an internship in Internal Medicine at LSUHSC-S, he went on to complete a residency in Ophthalmology at LSUHSC-S, including serving as chief resident during his last year. Dr. Abrams then traveled to what is considered the "frozen north" Detroit, Michigan to spend a year doing an Oculoplastic/Neuro-Ophthalmology fellowship under the supervision of Dr. Thomas Spoor, a well-respected pioneer in both fields. He became board certified in Ophthalmology in 2008.
After completing all of his training, he practiced in Chattanooga, Tennessee in a private practice for 3 years. However, due to his love of the water and sailing, he joined the Sarasota Retina Institute in the summer of 2011.
Dr. Abrams specializes in both Neuro-Ophthalmology and Oculoplastic Surgery. He gave up cataract, refractive and glaucoma treatments to focus on these wonderful fields. Dr. Abrams claims the Neuro part challenges him to work with patients who often have not gotten help elsewhere and come in with a variety of visual problems that dramatically affect their lives. Dr. Abrams enjoys helping people understand what is going on in complicated situations by taking the time to explain in simple terms so the patient has a clear understanding of their condition. The Oculoplastic part is a very important area of the body (the eyes and surrounding tissues) and working with these areas to make them function correctly, removing lesions/cancers and reconstructing damaged areas. Dr. Abrams also has a particular interest in the causes of dry eyes and tearing.
His love of sailing, road biking, and the warmer weather have made the Sarasota community a wonderful fit for his family. Dr. Abrams is married and has 4 wonderful children. The kids are up and coming sailors in the catamaran world and the whole family enjoys time on the water. When not enjoying the wonderful Florida outdoors, the yell of GEAUX Tigers can often be heard at the Abrams household cheering on LSU. The Sarasota weather and community have been a wonderful fit for both he and his family.
Dr. Abrams looks forward to helping you with your Neuro-Ophthalmologic or Oculoplastic issues.