Neuro-Ophthalmology & OculoPlastic Surgery Specialist
Fellowship Trained in Neuro-Ophthalmology
Fellowship Trained in Oculoplastic & Reconstructive Surgery
Fellowship Trained in Orbital Surgery
Educational Excellence
After graduating from medical school at the University of Texas/San Antonio (1974), Dr. Spoor served a surgical internship at the University of Minnesota hospitals and an Ophthalmology residency at the New York Eye and Ear Infirmary in NYC (1975-78) followed by a fellowship at the University of Pittsburgh in Neuro-Ophthalmology and Orbital Surgery (1978-79).
Dr. Spoor then commenced a 20 year career in academic Ophthalmology and Neurosurgery at the University of South Carolina (1979-84), University of South Alabama (1984-85) and Wayne State University (1985-98) (Professor Emeritus).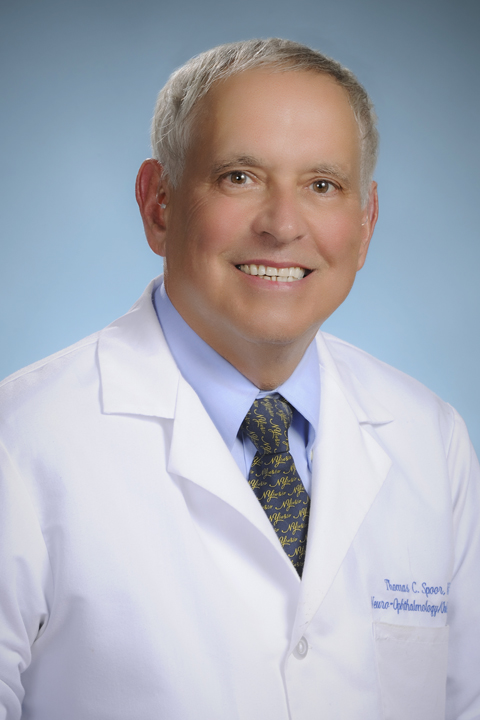 Thomas C. Spoor, M.D.
Since leaving the academic world in 1998, Dr. Spoor has run a successful private practice of Neuro-Ophthalmology and Oculoplastic Surgery at St John Medical Center in metro-Detroit. He joined Sarasota Retina Institute in 2008.
He presently divides his time between Sarasota and Detroit, practicing sub-specialty and consultative ophthalmology with special interest in patients with tearing and dry eye.
Dr. Spoor has trained hundreds of ophthalmology residents and over 30 fellows in his subspecialties. He has had numerous publications, presentations and has published 7 books on various aspects of his subspecialties. Dr. Spoor is a member of the North American Neuro-Ophthalmology Society, a fellow of the American Academy of Ophthalmology and American Society of Oculoplastic and Reconstructive Surgery.
Dr. Spoor was Board-Certified by the American Board of Ophthalmology in October 1979. He continually teaches courses at the AAO meetings on Sub-specialty topics including orbital surgery, dry eye and tearing. More information is available on his personal website.