Vitreous and Retina Surgical Treatment Specialist
Board-Certified Ophthalmologist
Fellowship Trained in Retina/Vitreous Diseases & Surgery
Areas of Specialty
Reattachment of detached retinas
Treatment of retinal tears
Treatment of diabetic eye disease
Treatment of macular degeneration
Treatment of vascular occlusive disease
Treatment of macular holes and puckers
Management of ocular trauma
Management of cataract complications
Evaluation and diagnosis of ocular tumors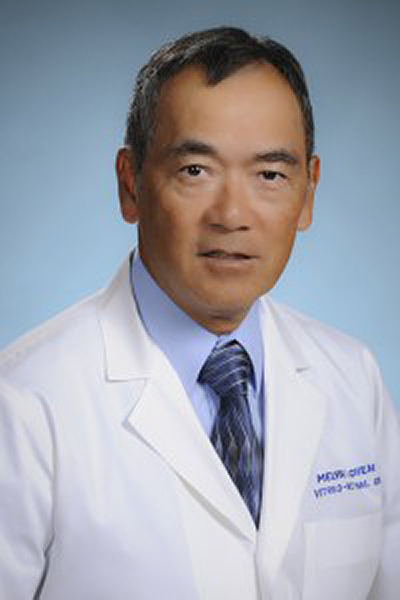 Melvin C. Chen, M.D.
Educational Excellence
Dr. Chen was born in Seattle, Washington, but left there after the 3rd grade, being relocated with his family when his father, who worked for the U.S. Government, was stationed in Japan. Subsequently, the family moved to Washington, D.C. where he attended the public school system, graduating from Fall Church High School in Falls Church, Virginia. He then attended Duke University where he received his B.S. Degree in Physics. After graduation he entered the Army where he received the rank of Captain, and served as Chief of Data Processing at the U.S. Army Environmental Hygiene Agency at Edgewood Arsenal, Maryland, and then as Executive Officer in the 125th Medical Detachment, 65th Medical Group, Korea. He served from 1967 to 1971.
After his military service, Dr. Chen attended Howard University Medical College in Washington, D.C. where he received his M.D. degree with Honors and was an AOA member. An internship in straight medicine was then completed at Duke University Medical Center, followed by a 3 year Residency in Ophthalmology at Georgetown University Medical Center and a Fellowship in Retina/Vitreous Diseases & Surgery at Devers Eye Clinic, Good Samaritan Hospital in Portland, Oregon.
Completing his medical training, he initially practiced in Alliance, Ohio; then at the Marshfield Clinic, Marshfield, Wisconsin. Tired of the cold weather, he joined The Sarasota Retina Institute in 1984.
Dr. Chen is Board Certified by the American Academy of Ophthalmology. He, as well as the other physicians at The Sarasota Retina Institute, is very active in many clinical trials seeking to find improved methods of treating eye diseases. His outside interests include tennis, motorcycling, flying and spending time with his family and grandchildren.